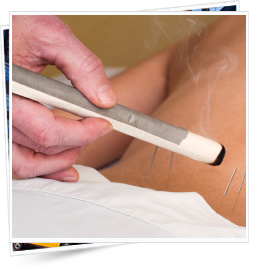 Moxibustion
Moxa, a dried herb known as mugwort (Artemisia Vulgaris / herb Ai Ye), is burned either directly or indirectly over acupuncture points or areas of pain. Once lit, it burns slowly creating a gentle heat which penetrates the skin to warm Qi and blood in the meridians (channels where Qi flows) to stimulate and strengthen the flow of Qi and blood.
It is commonly used under the guidance of qualified practitioners on specific acupuncture points to move the Qi and blood in the pelvic area and uterus to turn babies presenting in breech position in pregnancy. It is also very helpful in certain types of arthritis, musculskeletal pain, menstrual issues and certain conditions for children.
Insurance Cover
I am recognised by all the major health insurers in Ireland through my professional association A.F.P.A. These include, VHI, QUINN Healthcare, Hibernian Health, and HSF. Other health insurance schemes also cover acupuncture such as the Garda Medical Scheme and ESB. Please check with your insurers if your individual policy covers you for acupuncture.
Infants and Children
Chinese medicine has specialised in treating children dating back to the Song Dynasty (960-1279)
The key to facilitating healthy growth and development is to prevent or resolve acute conditions and address underlying weakness by strengthening the child in the early stages, ultimately decreasing the likelihood of chronic illness later in life.
Fertility / Pregnancy
Acupuncture and Chinese Medicine has been treating fertility and pregnancy for thousands of years. Shenacu has speclaised in treating these areas undergoing further training with Zita West, Jani White and Sarah Budd.
Gillian specialises in the treatment of Fertility/ Infertility (male and female) and pregnancy.
Testimonials
I went to my GP with a Frozen Shoulder and he recommended me to a consultant at Blackrock Clinic and Physiotherapy. After a long time and spending a lot of money, nothing was helping and I also developed excruciating Sciatica in one hip. My mother suggested acupuncture and Gillian was recommended to me. She sorted my pain after a few visits.

I was referred to Gillian with re-current miscarriage and auto immune issues 2 years ago. From the moment i met Gillian I knew I was with the right person. Her knowledge and understanding of my specific issues go far and beyond that of an acupuncturist. Through Gillian, I always felt equipped for the journey that lay ahead for us. My husband and I both feel that Gillian played an integral part of the safe arrival of our baby 6 months ago.

I have been attending Gillian Searson for acupuncture treatment since… and am very pleased to say that I have found, and continue to find, her treatment of very significant benefit. Always full professional in her approach, her support has been invaluable. I am happy to recommend her without reservation.