Do the difficult things while they are easy and do the great things while they are small. A journey of a thousand miles must begin with a single step - LaoTzu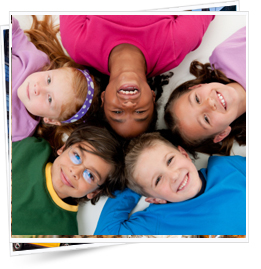 Acupuncture and traditional Chinese medicine has become increasingly popular for adult conditions, however it's less widely recognised in the treatment of children. Few practitioners treat children and fewer again have specialised in the area of paediatrics. Chinese medicine has specialised in treating children dating back to the Song Dynasty (960-1279). With 16 nieces and nephews, this area has always been of great interest to Gillian and she is currently completing a year diploma in Paediatric acupuncture with the renowned Julian Scott M.A., Ph.D, B.Ac in the College of Integrated Chinese Medicine, Reading, UK. Julian, based in Bath, England has been practicing for over 35 years and specialised in paediatric acupuncture realising the huge benefits it offers children.
In western society parents often shy away from getting acupuncture treatment for their children, even when they have received it themselves. Some feel their children are too young to benefit from it or they are concerned their child will be dislike needles.
Diagnostic techniques for children and adults share some similarities, but there are special diagnostic techniques and treatments that are specific to paediatrics.). Many wonder how we expect a young child to stay still during a treatment? Often the child will stay seated in their parents laps, the safest place for a child. One of the first noticeable differences to an adult treatment is a full treatment of acupuncture can be completed within minutes. We do not retain needles in children under 3 years of age, and possibly 2-5 minutes in children up to 7 years. In some cases acupuncture will not be used, instead moxibustion, acupressure, Tui Na and dietary advice and cupping will be used.
Common childhood conditions treated with Chinese Medicine:
Respiratory – Flu/ colds/ Cough(chronic or acute)/ Pneumonia/ Asthma
Digestive – Abdominal pain (colic)/ Constipation/ Vomiting/ Diarrhoea/ Teething/ Poor appetite/ Allergies
ENT – Ear infections (chronic or acute)/ Glue ear / Tonsillitis (chronic or acute)/ Short sight/ Crossed eyes
Skins diseases – Eczema/ Oral thrush/ Mouth ulcers/ Shingles
Infections – Measles/ Chickenpox/ Whooping cough
Glandular – Mumps/ Mononucleosis
Urinary – Bedwetting/ Urethritis/ Cystitis/ Nappy rash
Developmental – ADD & ADHD/ Dyslexia/ Dyspraxia/ Learning problems/ Failure to thrive/ Autism
Miscellaneous – Insomnia/ Night terrors/ Growing pains/ Palsy/ Chronic Fatigue/ Depression Pre and post immunisation
Testimonials
I went to my GP with a Frozen Shoulder and he recommended me to a consultant at Blackrock Clinic and Physiotherapy. After a long time and spending a lot of money, nothing was helping and I also developed excruciating Sciatica in one hip. My mother suggested acupuncture and Gillian was recommended to me. She sorted my pain after a few visits.

I was referred to Gillian with re-current miscarriage and auto immune issues 2 years ago. From the moment i met Gillian I knew I was with the right person. Her knowledge and understanding of my specific issues go far and beyond that of an acupuncturist. Through Gillian, I always felt equipped for the journey that lay ahead for us. My husband and I both feel that Gillian played an integral part of the safe arrival of our baby 6 months ago.

I have been attending Gillian Searson for acupuncture treatment since… and am very pleased to say that I have found, and continue to find, her treatment of very significant benefit. Always full professional in her approach, her support has been invaluable. I am happy to recommend her without reservation.
Insurance Cover
I am recognised by all the major health insurers in Ireland through my professional association A.F.P.A. These include, VHI, QUINN Healthcare, Hibernian Health, and HSF. Other health insurance schemes also cover acupuncture such as the Garda Medical Scheme and ESB. Please check with your insurers if your individual policy covers you for acupuncture.
Infants and Children
Chinese medicine has specialised in treating children dating back to the Song Dynasty (960-1279)
The key to facilitating healthy growth and development is to prevent or resolve acute conditions and address underlying weakness by strengthening the child in the early stages, ultimately decreasing the likelihood of chronic illness later in life.
Fertility / Pregnancy
Acupuncture and Chinese Medicine has been treating fertility and pregnancy for thousands of years. Shenacu has speclaised in treating these areas undergoing further training with Zita West, Jani White and Sarah Budd.
Gillian specialises in the treatment of Fertility/ Infertility (male and female) and pregnancy.