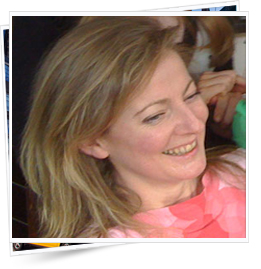 Gillian Searson
B.A., Lic. Ac., Dip.Ac., C.Ac. Nanjing (China), TuiNa Dip., MAFPA
Born and bred in Dublin with strong Corkonian parents, my dichotomy began at an early age! I graduated in Sociology and Classics and then went on to be an IT and HR manager but never quite found my niche. I have always had an interest in healing and a great empathy for the difficulties people face in life so I knew IT & HR was not an area in which I would find true contentment.
My interest in Chinese medicine and Philosophy began in the late 90's through the practice of Qi Gong and Tai Chi. But it was a few more years before I finally connected the dots and returned to college to study acupuncture.
Once I began studying Chinese medicine I knew I was hooked for life. With a wealth of information spanning so many centuries, it offers an endless learning experience for which I have a great hunger.
As the proud Auntie to 16 nieces and nephews I am keenly aware of the wonderful benefits it offers not only adults, but children. As part of my post graduate training, I worked in the First Affiliated hospital in Nanjing (China) and I was amazed at the range of conditions treated with acupuncture in the paediatric wards. Unfortunately treating children is an area that is under resourced in western society. I am proud to be specialising in this area, enabling me to offer this to my local community.
Working from home allows me the space to focus solely on each client in peaceful surroundings. Seeing clients recover from pain or illness or to bring new life into the world is the most rewarding aspect of my job, true job satisfaction……I have found my niche!
Professional associations
AFPA
I am a member of the Acupuncture Foundation Professional Association (A.F.P.A.). I had the pleasure of serving as Secretary on the board from 2008-2009. During this period, I sat on the Steering Group of Acupuncture associations which was formed in direct response to the Dept of Health and Children's report on Complimentary therapies with a long term view of achieving statutory regulation of the sector.
The AFPA is Ireland longest established professional association representing acupuncturists in Ireland since 1987. All members of the AFPA observe a strict code of practise which governs our standards of care and conduct. We comply with the Department of Health recommendations as outline in the NWG report 2006.
ETCMA
I am a member of the ETCMA (European Traditional Chinese Medicine Association) through my professional membership with the AFPA. The ETCMA is an umbrella organisation for professional associations that represent approximately 10,000 practitioners in 14 countries on a European level. The purpose of the ETCMA is to provide wider recognition and acceptance of TCM by EU Governments and their public. One of my duties during my tenure as Secretary to AFPA was working with the board of the ETCMA.
Zita West Affiliated Network for Reproductive Health
I am a founding member of the Zita West affiliated Network since 2009. The Zita West Clinic is the largest integrated (medical and complementary) practice in the UK specialising in all aspects of male and female reproductive health. Built on the innovative work of midwife, author and fertility & pregnancy expert Zita West and her renowned London clinic.
The Network aims to share the unique skills and experience of Zita and her team of doctors, midwives and complementary therapists, with experienced, independent acupuncturists across Ireland and the UK.
All acupuncturist members of the network receive training and ongoing support in Zita West's comprehensive, holistic approach to achieving optimum reproductive health. This covers a wide range of treatments and approaches to help boost fertility, enhance IVF, improve pregnancy, enhance birth outcomes and support post-natal recovery.
As a founding member, clients of Shenacu can also avail of an exclusive 20% discount on Zita Wests fertility consultations, nutritional consultations and range of supplements and relaxation cds.
ACCM
ACCM (Academy of Classical Chinese Medicine) was founded by Paul McCarthy and is devoted to broadening the practice of acupuncture in Ireland by reclaiming the heritage and legacy of Classical Chinese Medicine. It is rooted in the Classical Oriental Medical Healing Arts as guided by Daoist Master Jeffery C. Yuen. Highlighted in this undertaking is the study of the ancient Daoist texts, the history of ideas and their influence in the development of styles of practice. I have the pleasure of assisting in organising the annual conferences with ACCM since 2008.
Treatments
Fertility and Pregnancy
Acupuncture and Chinese Medicine has been treating fertility and pregnancy for thousands of years. Shenacu has speclaised in treating these areas undergoing further training with Zita West, Jani White and Sarah Budd. Gillian specialises in the treatment of Fertility/ Infertility (male and female) and pregnancy.
Infant and Child healthcare
Chinese medicine has specialised in treating children dating back to the Song Dynasty (960-1279). With 16 nieces and nephews, this area has always been of great interest to Gillian and she is currently completing a year diploma in Paediatric acupuncture with the renowned Julian Scott M.A., Ph.D, B.Ac in the College of Integrated Chinese Medicine, Reading, UK. Julian, based in Bath, England has been practicing for over 35 years and specialised in paediatric acupuncture realising the huge benefits it offers children.
Musculo-skeletal
Arthritis, Sports injures, Knee and back injuries, Sciatica, Frozen shoulder, Tennis / Golfers Elbow, Repetitive strain injury (RSI), Temperomandibular joint dysfunction (TMJ), Neck pain, Carpal Tunnel syndrome.
Gynaecological
Natural fertility, Infertility (male and female), Amennorhea, Irregular or painful periods, PMT, Peri-Menopause or Menopause symptoms, Morning sickness, Pregnancy related conditions
Neurological
Post stroke neuralgia, Herpes Zoster (Shingles), M.S>, Migraine, Headaches, M.E.
Respiratory
Asthma, Sinusitis, Rhinitis, Bronchitis, Acute Tonsillitis, Cough, Cold, Flu
Mental & Emotional
Insomnia, Anxiety, Depression, Stress, Addictions
Gastrointestinal/ Digestive
Nausea, Indigestion, Bloating, Ulcers, Constipation, Diarrhoea, Irritable Bowel Syndrome (IBS), Colic
Cardiovascular / Circulatory
Angina, Hypertension (High Blood Pressure), Poor Circulation, Fluid Retention
Skin Conditions
Acne, Eczema, Psoriasis, Utriticaria, Dermatitis, Pruritis (itching),
Summary of Qualifications
2008 - Dip Tui Na – Chinese medical Massage A.F.I. Acupuncture foundation of Ireland, Dublin under Dr Dr. Fanyi Meng of Lincoln University, England.
2007 – Lic.Ac. – Acupuncture and Traditional Chinese Medicine, Nanjing University of Traditional Chinese Medicine, China
2007 - C.A.c. Certificate in Acupuncture, A.F.I. & Nanjing University of Traditional Chinese Medicine, China
2007 - Dip. Ac. – Diploma in Acupuncture, A.F.I. Acupuncture Foundation of Ireland, Dublin
2007 – Cert. Patent Herbs – Certificate in Chinese Patent herbs for TCM practice, A.F.I. Dublin
Currently enroled in
Dip Paediatric Acu 2012 – Diploma in Paediatric Acupuncture – College of Integrated Chinese Medicine, Reading, UK
Post Graduate courses/seminars
2012- Eight Extraordinary Vessels in Classical Chinese Medicine - Jeffrey Yuen, Academy of classical chinese medicine
2011- Julian Scott – Childhood enuresis and ADD/ ADHD – AFI Nov 2011
2011 – Divergent Channels – , Jeffrey Yuen, Academy of Classical Chinese Medicine, Dublin
2010 – Cancer Care and Classical Chinese Medicine, - , Jeffrey Yuen, Academy of Classical Chinese Medicine, Dublin
2010 - Obstetric workshop – Sarah Budd, AFI, Dublin
2010 – Gynaecology and Fertility – Jani White of Nature child UK- Acuhealth, Dublin
2010 - Qi Gong exercises for your patient and Alchemical Acupuncture - Jeffrey Yuen, Acadamy of Classical Chinese Medicine, Dublin
2009 - Sinew Channels - , Jeffrey Yuen, Acadamy of Classical Chinese Medicine, Dublin
2009 - First Aid – Safety Ireland, PHECC recognised, Nov Dublin
2009 - Reproductive Health – Zita West, June, Dublin
2009 – Sinew Channels - , Jeffrey Yuen, Acadamy of Classical Chinese Medicine, Dublin
2008 - The Theoretical Foundations and Clinical Applications of the Luo Channels in Classical Chinese Medicine, Jeffrey Yuen, Acadamy of Classical Chinese Medicine, Dublin
2007 - Spiritual Development for Healers & The Channel Systems of Classical Chinese Medicine - , Jeffrey Yuen, Acadamy of Classical Chinese Medicine, Dublin